Cydia Impactor Not Detecting Device
First we must see why Cydia Impactor is not detecting your iPhone, iPad, iPod or any other device. Most probably the Cydia Impactor app will be running without errors so it is better to check about the errors that can be caused because of the computer.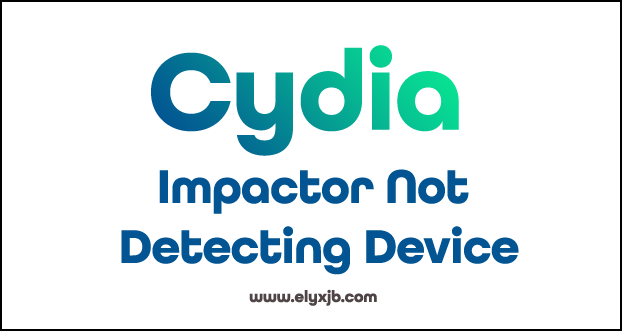 One of these errors can be because you have not installed iTunes to your computer as it is compulsory to have iTunes in your computer. The next problem will be because your device is not properly connected to your personal computer. And the other reason can be iTunes can not recognize the connected device.
How to fix Cydia Impactor not detecting your device?
There are a few ways you can try to fix this problem.  The first thing you must do is to check your USB port. You can check it by connecting the device to the computer and see whether it starts charging the device. If your device is charging but still it does not detect your device, you can try using another USB port. The next thing to do is to reinstall iTunes to your device. First uninstall iTunes application and then install it again by following the below steps. 
Step 1: uninstall iTunes, Apple device support and also Apple application support.

Step 2: Next you must restart your computer.

Step 3: After that reinstall iTunes to your device.

Step 4: Restart your pc.

Step 5: Now check whether Cydia Impactor is detecting your device now.
Another thing you must try to fix this error is to check your USB cable because the issue must be due to a faulty in the cable. You must always keep in mind to use an Apple certified connector. As you are dealing with the technology, being updated is a very important thing to follow. This theory is applicable even for the apps you must use the latest versions of any application for better functionality. So when using Cydia impactor make sure to use the latest version of iTunes. You can download the latest version from its official website. The last thing you can try is to switch to another computer, it will be shocking but switching to a different computer will be also helpful to fix the error. 
What prevents the Cydia Impactor from working?
You may have faced an error message telling that Cydia Impactor is not working so let us see the reasons for this error.
The device administration privileges are necessary to complete some actions in a software. So if you have not granted administration privileges some elements will not work properly. Sometimes the Windows 10 operating system prevents the software from running accordingly. Another reason will be that the software software is outdated. As the developers introduce new updates it is important to update the version. If you have signed into the computer using a Microsoft account certain activities might be prohibited and Cydia Impactor will be one of them.
Read these articles too..
Solutions for Cydia Impactor not working:
If administrative privilege is not granted the application will not run properly so you must provide application privilege to the software.

Sometimes the Windows 10 operating system prevents the software from launching properly. So you must change the compatibility of settings.

To work with the software properly you must always need to update the software to the latest version because the old version may contain bugs and the newest version will patch the bugs. It is always better to use the latest version in any app. 

 Sometimes you might be using an offline Microsoft account and sometimes they may encounter bugs so changing your Windows 10 account might also help to fix the error.