Cydia Impactor Errors
It is obvious to face errors while using an app, it is the same for Cydia Impactor. Errors may lead to delays so it is important to identify errors and fix them accordingly. You will face run time arrows, provision errors etc. You do not need to be frustrated about these errors. Here is a description about these errors and a guide to fix them.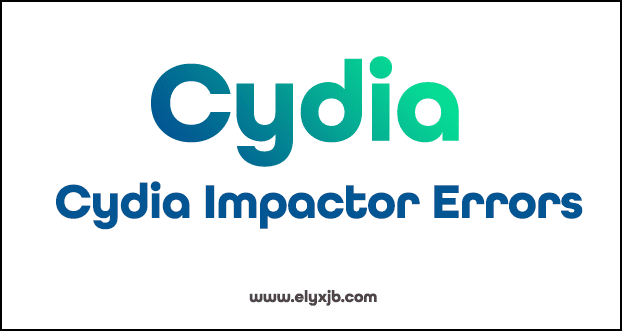 Cydia Impactor error 150
 This  error pop ups when you enable two factor authentication in your Apple ID.It is required to enter an app specific password. So to fix this error all you have to do is create an app specific password and you must use that for Cydia Impactor instead of using your normal password.
Cydia impactor error 173
This is a most frequent error users face while utilizing Cydia Impactor. You will face this error after filling your Apple ID and the password to move forward in the process of installing IPA files. Enabling two factor verification is the main reason for this error.  To fix this problem all you have to do is generate a password and use it when sideloading apps using Cydia Impactor.
Cydia impactor error 182
This error might be because of a connection issue. To resolve it go to the menu and then go to Impactor and Insecure SSL, it will change insecure SSL and the error will be fixed. There is another thing you can try to fix Cydia Impactor error 182, it is to check whether you have a double certificate and if so turn it off, it will be also helpful to fix the error.
Cydia impactor error 57
The reason for this error will be  something wrong with the setup, but you can not be sure with it. To solve this problem you can close Cydia Impactor, turn off your WiFi connection and then try again to run cydia impactor. Another way to fix the problem is to tap on TRUST while you are connecting your device to the computer. You must also download and install the latest version of iTunes and sign in using your Apple ID and password.
Get more information from here..
Cydia Impactor App Specific Password
Cydia impactor error 81
It can not be mentioned what is the exact reason, but it is possible to be an error with the setup or something might be wrong with the Apple ID. In order to solve the error you can try to utilize revoke certificate along with cydia impactor else you can create a new Apple ID to use it in cydia impactor. This error is called Provision.cpp 81 cydia impactor error.
Cydia impactor error 87
This error indicates an issue with pre-existing certificates on the device you are using. It is said that the latest versions of cydia impactor does not revoke certificate revocation so to fix this problem you can grab an older version and can use it for certificate revocation.
Cydia impactor 173
This error shows that you need to enter an app specific password to sideload IPA files instead of the Apple ID and password. To fix this error all you have to do is to create an App-specific password and use it to drag IPA on the cydia impactor. If the error still disturbs after using an app specific password better try disabling two factor authentication and try to run using the existing Apple ID and the password.
Cydia impactor 182
Even to fix this error you must change the insecure SSL settings and the error will be resolved. And also check if you have a double certificate if so turn off the double certificate.
So hope you got an idea about Cydia Impactor errors and how to resolve them.